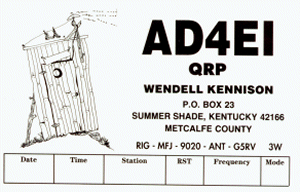 Here is a copy of my own QSL Card. I send this one out for QRP contacts.

A QSL card is basically a post card that Amateur Radio Operators send to each other to confirm a radio contact. The card contains information about the radio station, location, and data about the radio contact. The cards are often used as proof of radio contact to be eligible for the various awards available to ham operators. The cards can be quite colorful and many are very unique. In many ways they are a miniature art form in themselves!

The following pages have some of my favorite cards that I have received. Enjoy!


I have a total of 155 countries confirmed on 20 meters CW using only 3 watts of power and a G5-RV Antenna.
Here are eight of the QSL Cards
confirming contacts with only 3 watts of power.
I may add more cards in the future, so check back in often to see what is new!