I have always enjoyed doing a little entertaining. My renditions of Drikin'Brother Willie have always seemed to bring a smile to the faces of the people around me.

I found another opportunity to do a little acting at the Barnlot Theater...a small theater located in Edmonton, Kentucky. This theater started out as an outdoor summer theater and has grown into a dinner-theater with plays and other events offered year-round.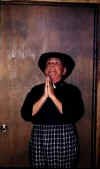 Click on any thumbnail to view larger image.
I tried out and got the parts in two different plays this last year. In the play "Faith County" I played Bubba Bedford owner of local filling station and Paint on Velvet museum. Bubba was the "Goober" of Faith County.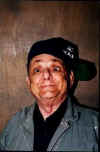 He was also a Parson who received his divinity degree from an ad in Popular Mechanics Magazine. Bubba learned to play the triangle from his imaginary friend who also taught Bubba to tap dance.





In the play "It's a Wonderful Life" I played Uncle Billy Bailey, whose family
owned the Bailey Building and Loan. The building and Loan was always in jeopardy of falling into the hands of Mr Potter who owned everything in town except the

Building and Loan. Uncle Billy gives Mr Potter the chance when he lost a large sum of money while on the way to deposit it.


I'm hoping to once again be on stage and doing
what I like to do so much.